Red Wine Grilled Cheese
March 05, 2019

Everyone needs comfort food now and again to provide that instant gratification. Why not put a new spin on a classic dish like grilled cheese sandwiches. Whether you need a hearty meal after a long day, a hard week or due to the dreary weather adding wine is always a bonus. 
Servings: 4-6 | Time: 20-30 minutes
Ingredients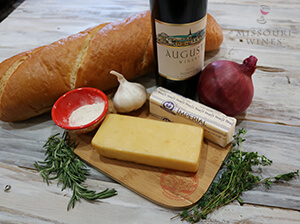 • 2 tbsp Butter
• ½ Red onion (chopped)
• 1 clove Garlic (minced)
• Dash Rosemary
• Dash Thyme
• 1 tbsp Flour
• ¾  cup Red wine (Norton)
• ½  cup Shredded cheese
• French bread
Instructions
Melt butter over medium heat to prepare pan. Sauté onion until softened, then add garlic, rosemary and thyme. Continue to cook. Mix in flour then add wine. We used Missouri Norton but other red wines could be substituted. Reduce mixture until thickened. Apply melted butter to one side of the sliced French bread. For extra flavor add garlic salt to the melted butter. Spread wine reduction sauce onto the opposite side of each slice of bread then add shredded cheese. We used an Applewood smoked cheddar. Top with another slice of French bread. To really amp up the wow factor, add a few slices of bacon. 
Enjoy your new found delight with a glass of Missouri wine!