Windy Wine Company: Home of the Original Peanut Butter and Jelly Wine
January 24, 2019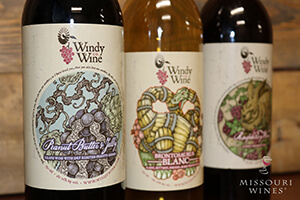 If you're looking for wine with personality, make Windy Wine Company [1] your next stop in Missouri wine country. Located in Osborn, a small town in the northwestern section of the state, the winery features wines unlike any you've ever tried before, including Blueberry Muffin and Peanut Butter and Jelly. If you liked PB&J sandwiches when you were a child, this may be your new jam.
"The idea of Peanut Butter and Jelly came from my cooking background and what flavors pair well together," says Kraig Keesaman, owner and winemaker at Windy Wine Company. "I strive to constantly improve, innovate, and produce wines that fit my personality."
On average, the winery features 20 wines, including their popular Tyrannosaurus Red, a dry, red blend aged in Bourbon barrels, as well as other favorites including their flagship wine Good News Red, Raspberry, Breezy Blush and, of course, Peanut Butter and Jelly. Kraig's personal favorite is Brontosaurus Blanc, a barrel fermented Vidal Blanc wine.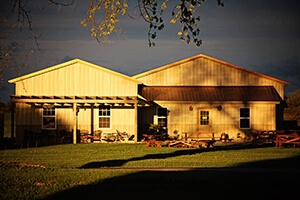 The winery's labels are as unique as the wines and feature original artwork by Casey McKinley, a Kansas City artist. "We knew that we wanted labels that represented what we put in the bottle," says Kraig. "We wanted colorful, fun, detailed art." Another unique feature is the biblical verse that borders the artwork on each label. The Keesamans wanted their labels to reflect their faith and belief in God and their goal to honor Him in all that they do.
Kraig and his wife Becky opened Windy Wine Company in 2009. They named their winery after the vast amount of wind that breezes through DeKalb county. Their winery sits on one of the highest points in the county, an area characterized by a lack of trees and flat land, so it's not unusual to see the blades spinning on the windmills dotting the surrounding landscape. The couple also wanted their winery to have a small town mercantile feel so they decided to add "Company" to the end of their name.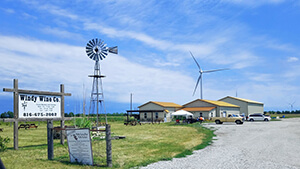 The winery sits on farmland that has been in the Keesaman family since the Civil War. Kraig's German ancestors were the first to recognize the farm's potential. In addition to livestock and crops, they started an orchard that included grapevines. They currently have around 7 acres of grapes. Cattle still graze on the farm side of the property where Kraig's father, Ken, older brother, Kody, and his son, Kolten raise Red Angus cattle. One of Windy Wine Company's wines, Angus Red, a full-bodied dry red wine, pays homage to the cattle that also call this Century Farm home.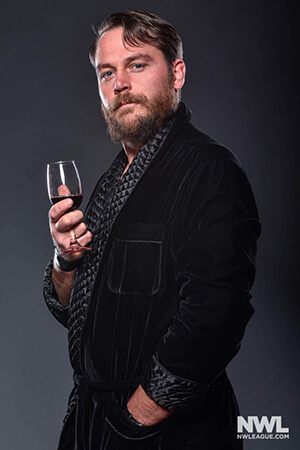 While winemaking is a year-round process, Kraig somehow finds time to pursue other ventures that he says inspire and help him make better wine. One of his favorite pastimes includes moonlighting as "Niles Plonk," a wine snob in the wrestling ring. Kraig has been a professional wrestler for almost 20 years. He trained under Sonny Myers, a 14 - time National Wrestling Alliance Central States champion in St. Joseph, Missouri. Wrestling has taken him all over the United States and overseas. "It's a huge part of my life," says Kraig. "I have applied some aspect of wrestling to almost any situation that I have encountered to help me make sense of it, including winemaking. It is very much an extension of myself."
Before you stop by Windy Wine Company, check the winery's upcoming events on their Facebook page [2]. The winery features concerts and special events including the master chef's delicious homemade meals paired with select wines. Kraig compares winemaking to cooking. "Both give me a creative outlet," he says. "There is a great satisfaction in producing something and having a consumer enjoy it."