A Love Story in Missouri Wine Country: Katie and Clyde
February 12, 2018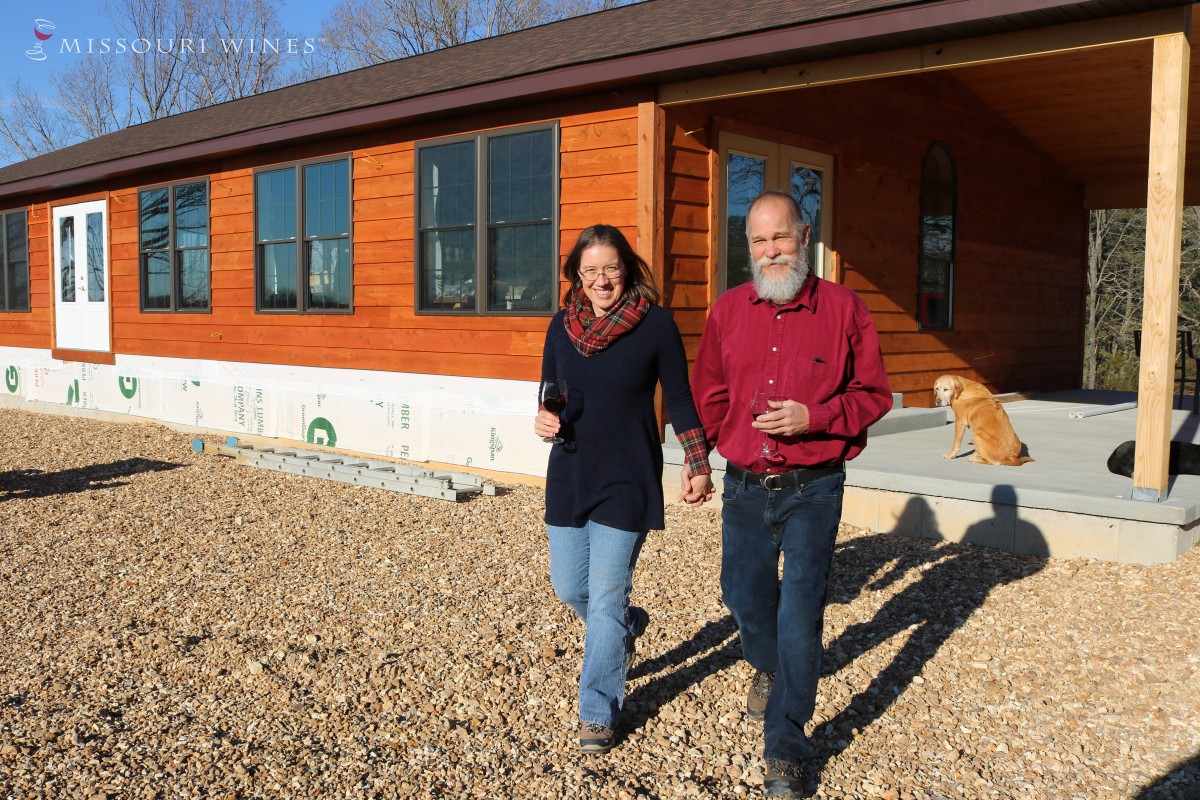 They say it only takes seconds to make a first impression, but Katie Nott wasn't watching the clock when she first saw Clyde Gill. She was trying to make a good impression of her own. Katie had recently graduated with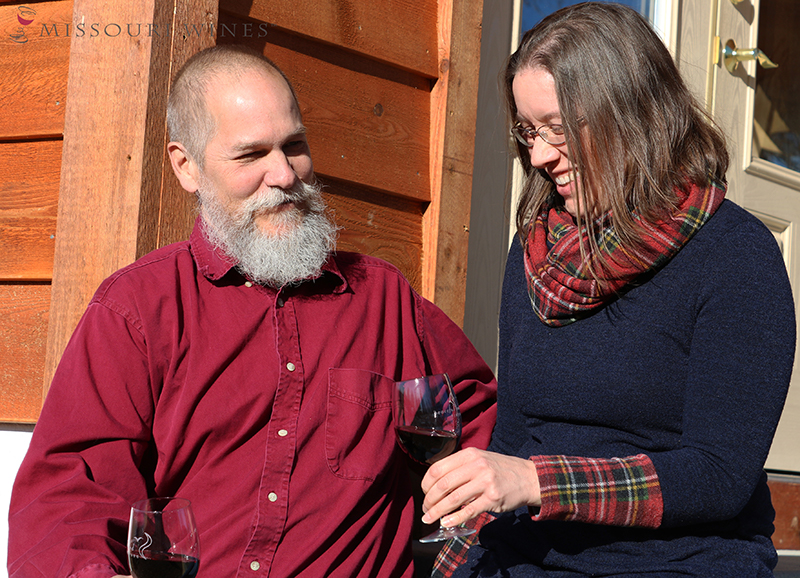 a degree in horitculture from Michigan State University. She was in the middle of a tour, hoping to secure an internship at one of the largest wineries in Missouri. He was in the middle of a fermentation gone wrong. Clyde, the self-titled "cellar rat," didn't make a great first impression. She thought he looked like an angry man. Katie's plan was to avoid him, but that became difficult after her internship started and their paths began to cross.
One such occasion occurred during the week of Maifest. Katie was stationed behind a cash register when Clyde walked through and teased, "Is that what you got your fancy degree for?'" If Katie was upset, she didn't let it show. "Cash Register 101," she quipped, "coming at you right now."
The couple are quick to laugh and forgive, two traits they have always admired in each other. Although neither were looking for love at the time they met, they fell in love with each other and the wine industry. The two also found success, (Katie was promoted to vineyard manager while Clyde became the cellar master), and a growing desire to own a winery someday.
As fate would have it, one of the couple's first dates was a float trip near Peaceful Bend Vineyard. (The winery gets its name from a 3-mile bend in the Meramec River.) Katie recalls, "I found out this place closed down and we had been talking about starting our own place way down the road but then Clyde got on the phone." And the rest just fell into place. Katie and Clyde leased the winery for two years, then bought it in 2000, becoming the winery's fourth owners since it opened in 1972. "It was such a whirl wind," said Katie. "We signed papers and then he asked me to marry him."
The couple continued to make wine and entertain guests in the original winery building until tragedy struck in November 2016, the day after Thanksgiving. Katie woke up early, unable to sleep. "I walked out the door and that's when I saw it all engulfed in fire."
By the time firefighters arrived, their winery was a total loss. "There was nothing you could do at that point," said Clyde, "There was just this hopelessness. It was…gone."
A devastation like a fire would strain the bonds between some couples, but Katie and Clyde found strength in each other, something they desperately needed as they faced an uncertain future. An investigation into the fire began and days soon turned into months, giving the couple plenty of time to visualize different scenarios for their future.
"We had a decision to make," said Clyde, "do we rebuild a winery from the ground up? Or," he continued, attempting to take some of the seriousness out of the situation, "do you buy a big boat?"
The two were cleared in the investigation and by the time the insurance check arrived, their minds were made up. "We knew we were going to do this again," said Katie. The community's support and willingness to help them after the fire was a constant source of hope for the couple. "Early on, the business becomes a lot larger than what you are," explained Clyde. "Wineries become a part of the community."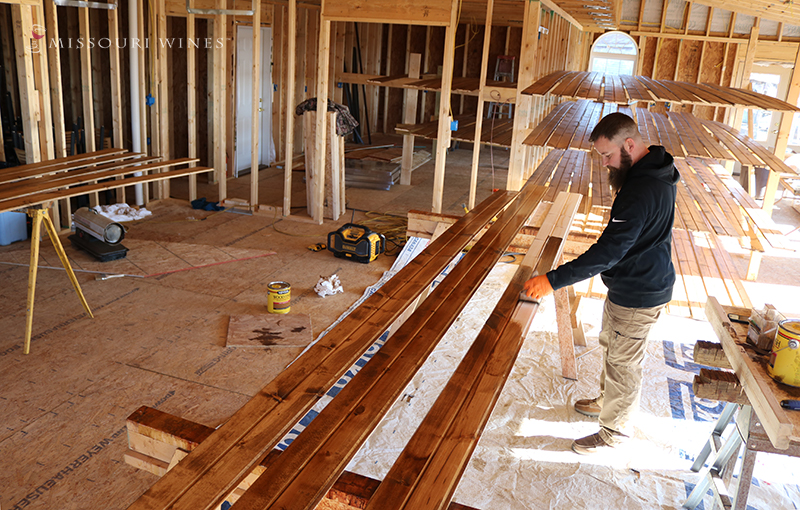 With the community's encouragement, the couple began to make plans for their new winery building. Now in the construction phase, the 2400 square foot building will feature a tasting room, restaurant and public areas located above an underground cellar. Guests will enjoy beautiful views from the large deck overlooking the hayfield and hiking trail. "We obviously have hopes of some level and it feels like the situation has changed and evolved," said Clyde. "It's the same operation but it's going to be a lot different. We'll have different services available." The couple smile at each other. Although they are co-captains at the helm of the winery, their customers are helping guide Peaceful Bend Vineyard into the future. "It's what customers have been saying they wanted for 20 years," explained Clyde. "It's extremely exciting, extremely frightening too."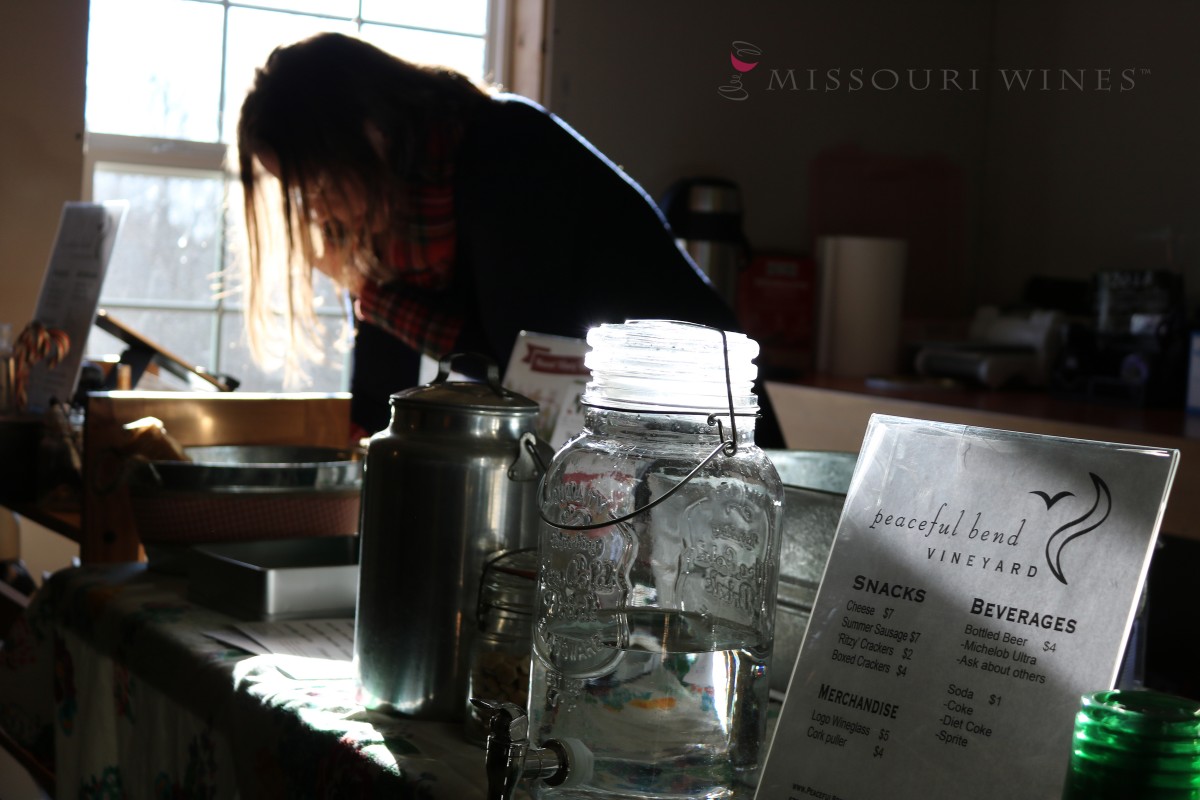 The new building will open sometime this spring. In the meantime, Katie and Clyde will continue to welcome guests at their interim tasting room, an old shed that's been enclosed and insulated, a perfect oasis for those trying to find a little peace.
Although Clyde is thrilled about his new loading dock, he finds the greatest joy in knowing what the winery means to their customers. "What I get excited about it is just being able to provide an escape for a while, a place for visitors to just do whatever they want to do, to be in nature, find their own spot to enjoy the scenery and serenity of the country."
There will be plenty of space for visitors to find their own niche and yes, even fall in love. It can happen when you least expect it, watching a sunrise or working as a cashier and cellar rat in Missouri wine country.
*Peaceful Bend Vineyard is located at 1942 Highway T in Steelville.