Winemaker's Way: Shriti Plimpton, Fence Stile Vineyards & Winery
March 09, 2022
Printer Friendly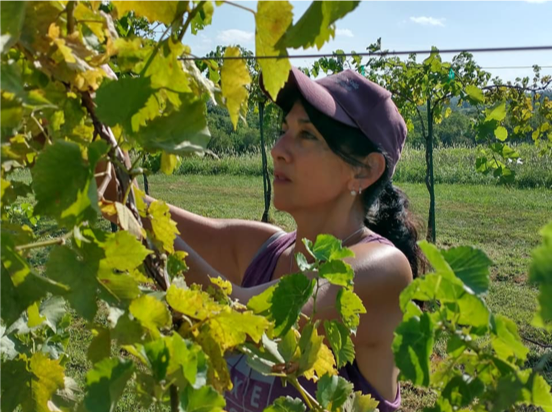 For owner and winemaker at Fence Stile Vineyards and Winery, the ultimate highlight of the entire winemaking process doesn't come from putting wine on the shelf. Shriti Plimpton prides herself on the complete experience that her guests gain with time spent on her beautiful 55-acre property near Kansas City.
"We love to be a part of everyone's celebrations and big life moments," Plimpton explained. Fence Stile provides a sense of community, a 'natural home', for their guests to enjoy beyond the wine rack. This being one of Plimpton's favorite aspects of her role as winemaker – leading her guests to envelop the atmosphere and the wine together. As winery owner, Plimpton's duties do not end with the winemaking process.
"I spend a lot of time in the tasting room, and am always tethered to the quality of the wine poured in a glass that leads to someone's delight, which is worthwhile," Plimpton shared. Assisting guests in fully experiencing the wine she crafts is most rewarding to her.
Tour guide is another of the many hats worn by Plimpton as she enjoys guiding guests throughout the property, including a tour through the naturally climate-controlled wine caves. Plimpton's hard work comes full circle when her guests share thoughts like "I never realized how much work goes into the process" or "Wow, Missouri has genuine quality wines to offer."
Plimpton strives to make quality wine that is expressive of the grape and season and be true to both. Fence Stile prides themselves on sustainable practices in their vineyards. Rather than spraying for weeds that compete with the vines, they use cultivation as a control method between the rows. They also forego the option of irrigating to prompt the strengthening of the vines and their crop. During hot and dry summers, they can only hope that the roots have grown deep into the clay soil to grasp for moisture. Plimpton shared that the intensity and flavor of a wine increases when the grapes have to 'struggle' in these ways while still on the vine.
The original vineyards at Fence Stile were planted in 2007 and the winery opened its doors three years later. Plimpton knew the time and dedication it would require to have an established and sustainable business for years to come, but didn't shy away from the challenge. As she embarked on this adventure later in life than some career winemakers, she found great success through her education with the Viticulture & Enology Science & Technology Alliance (VESTA). Aside from formal education, she found internships and partnerships with fellow vineyards and winemakers to prove most valuable in her learning experience.
Plimpton's worldly experiences influence her winemaking efforts. She was born in Kenya, raised in India and Canada and has been fortunate to experience both the culture and wine of many European countries. She considers her work to represent a taste of the world, even though she is making Missouri wines and enjoys the opportunity to develop an array of quality wines.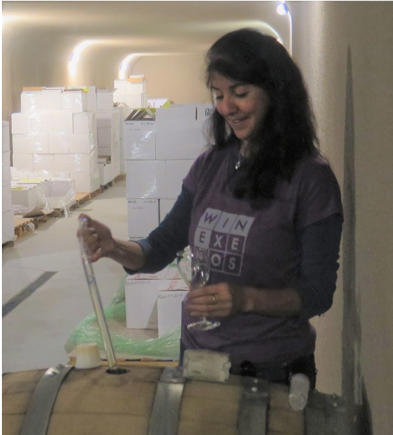 Plimpton sees her passion in the wine space as exploring the endless possibilities with a variety of wine and grape by-products. In February of 2020, her winery released the first Missouri-made Chambourcin Piquette which is made from pomace, the remaining grape skins, pulps, stems and seeds. Read more on this exciting special edition low alcohol wine here. Aside from Plimpton's creative craft in less traditional wines like Piquette and orange wines, she also had a hand in producing a grape skin scrub using Chambourcin pomace as a partner with The Elms Hotel & Spa in Excelsior Springs. 
"We want to evolve our offerings to address a wider audience and create cocktails and wine styles to extend the experience for our guests," Plimpton explained. In 2021, Fence Stile added a distillery on the property and plan to release rum, brandy and other spirits this spring.
Looking to the future, Plimpton is eager to continue learning about varietals not commonly grown in the Midwest, such as Crimson Cabernet and Cabernet Dore. She is excited to craft unique blends using traditional Missouri varietals with vinifera varieties that may resonate more commonly with wine consumers. In this way, Plimpton hopes to bridge the gap to meet consumers who are not as familiar with the varietals most popularly grown in the Midwest, but continue to represent the excellence that is found in Missouri wines.
Plimpton has a special way of bringing quality wines to her guests while creating a memorable experience. Friends of Fence Stile who provide genuine feedback on the special times they have shared at the winery provide the most satisfaction to Plimpton. Special people enjoying the wine of her labor prompts a smile at the end of the day.
Interested in learning more about Missouri wines, wineries and winemakers? Follow us on social media @missouriwine.