Missouri Vignoles is Summer Fare's Perfect Pair
August 01, 2017
Printer Friendly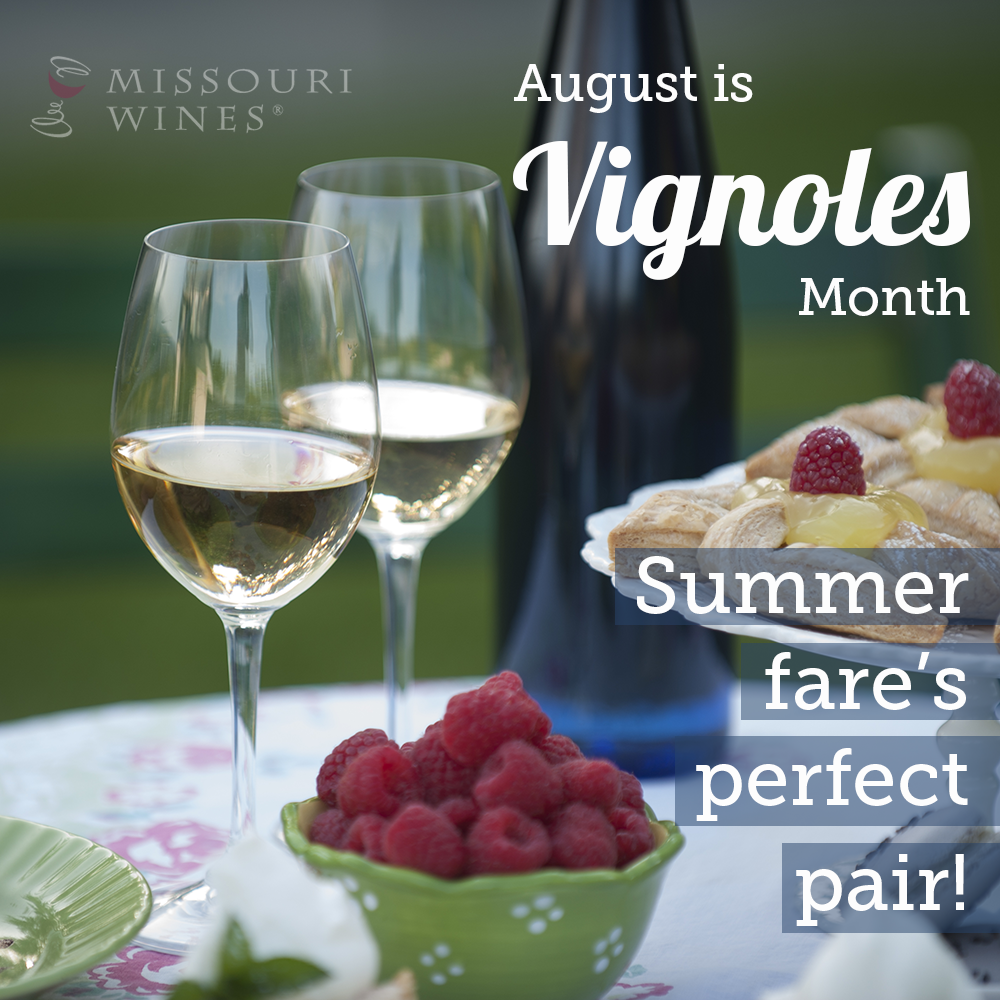 Vignoles is the most widely grown white grape in the state, and for good reason. It makes truly delicious wines. Light, fruity and refreshing, Vignoles wines are the ideal complement to your favorite summer foods. Celebrate this versatile varietal with us during Vignoles Month (AKA August).
Vignoles, pronounced veen-yole, is a French-American hybrid grape created to be hardy, making it a good fit for the demanding weather conditions of the Midwest. There are 260 acres of Vignoles in the vineyards of Missouri wine country, 15.4 percent of all grapes grown in the state.
Winemakers use this popular white varietal for wines ranging in sweetness. At the recent Missouri Wine Competition, three very different styles of wine made from Vignoles grapes all won Best of Class honors. A Dry Vignoles from Adam Puchta Winery took the title in the dry white wine category. Augusta Winery's 2016 Vignoles, a semi-sweet wine, took the honor in its category, and a Late Harvest Vignoles from Stone Hill Winery also won Best of Class. These three wines are drastically different, but all delicious and all made from Vignoles.
Aromas of tropical fruit, floral notes, and citrus accompany a plethora of fruity flavors, most notably pineapple in Missouri Vignoles wines. The fruity characteristics open an exciting range of food pairing possibilities. Dryer Vignoles wines go well with fresh fruit, swiss cheese and curries. Sweeter Vignoles wines match up remarkably well with spicy foods. The sweetness helps put out the fire. Try a glass with spicy Mexican or Asian dishes. Late Harvest Vignoles is the perfect pair for cheesecake or crème brûlée.
Head out to Missouri wine country or your local wine retailer this August and discover Missouri's most popular white wine in all of its styles. Find your favorite!