The 2017 Total Solar Eclipse: The Cosmic Show of a Lifetime
August 03, 2017
Printer Friendly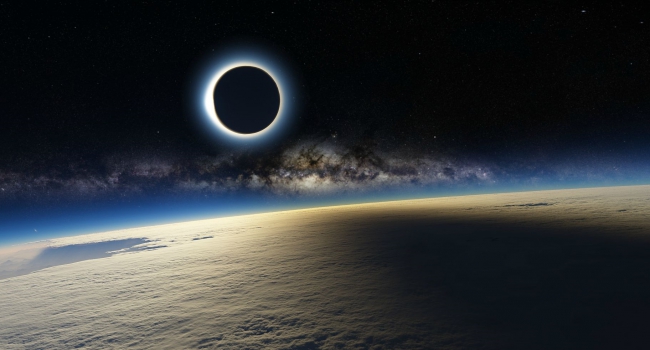 [photo: NASA.gov Video]
It's coming! The total solar eclipse, the most highly anticipated space event in decades, is headed to Missouri and so are thousands of tourists. Are you prepared for the total eclipse of the sun?
Solar eclipses, when the moon passes between the earth and the sun, occur on average two times a year. Total solar eclipses, when the moon completely blocks the sun, occur every 18 months on average, but they usually don't occur near areas with significant populations. The last time residents in Missouri experienced a total solar eclipse was back in 1869. 
On August 21, 2017, the path of totality will travel through Missouri, starting at the northwest corner of the state and continuing through the southeast corner. Viewers, if they are close to the line of totality, will have the best and longest view of the total solar eclipse. Even NASA Television plans to broadcast the event from the lawn of the Missouri State Capitol.
Umbraphiles, the unofficial name for avid chasers of eclipses, have been planning for this day for months, even years. Tourism specialists in Missouri have fielded calls from all over the world, some as far back as 2015. Megan McConachie, Strategic Communications Manager for the City of Columbia's Convention & Visitors Bureau, says the first call she received about the eclipse was from London, but she's also had calls from Canada, Italy and more than a dozen states. Visitors from Israel, China and Poland are also on their way.
You'll need special glasses to safely view the eclipse. You can purchase reasonably-priced shades outfitted with solar filters from many outlets including Convention & Visitor Bureaus and area events.
Be prepared if you plan to travel on the day of the solar eclipse. Stock up and fill your gas tank a few days before the event. The increased number of travelers may drain supplies at many stores. The Federal Highway Administration recommends drivers follow these safety tips on the day of the solar eclipse. Prepare for extra congestion especially on major highways. Turn your headlights on. Do not rely on automatic headlights when the eclipse blocks the sun. And don't stop along the interstate or park on the shoulder during the event. 
Many organizations including NASA and the Missouri Department of Natural Resources feature additional information about the eclipse. NASA's interactive map helps you figure out the start time of the eclipse based on your location along the path of totality.
How will you experience the total solar eclipse? We suggest you spend the amazing moment at one of Missouri's wineries. Several wineries are hosting special events in conjunction with the eclipse. We'll share these events with you in a future blog so you can plan your eclipse expedition. Stay tuned!